Cosmic Brownies
May 08, 2023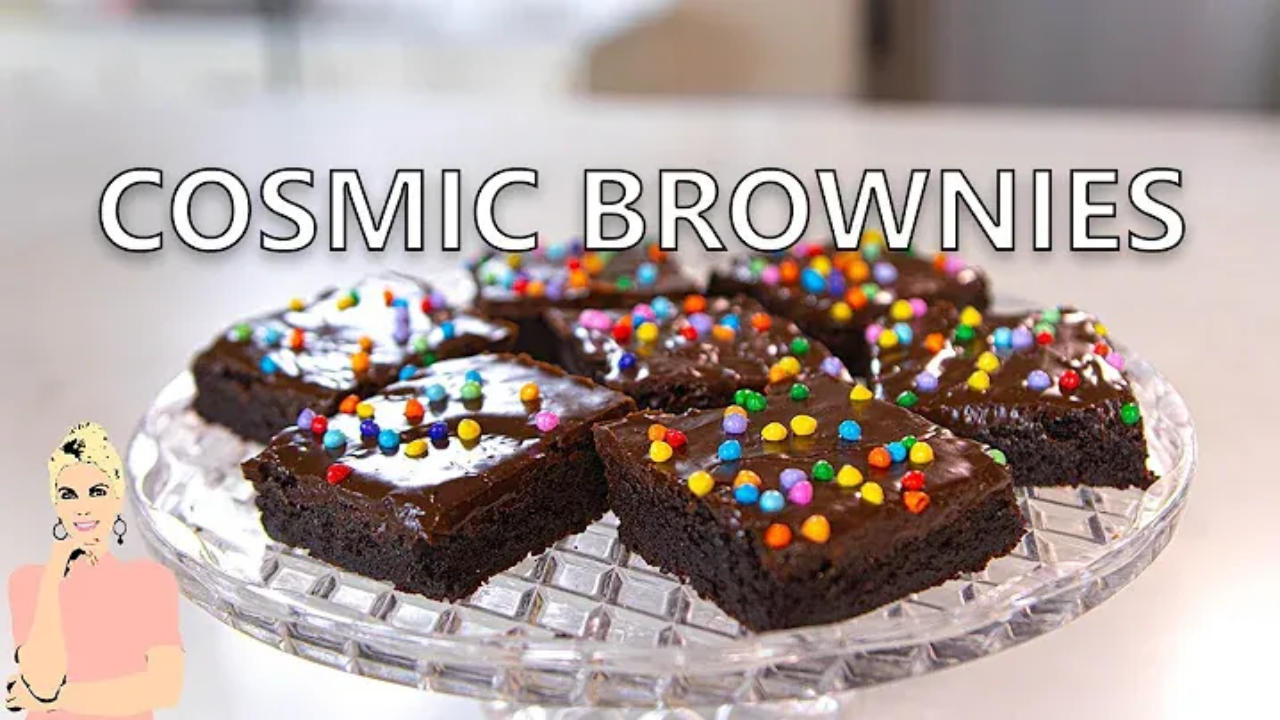 This is such a nostalgic dessert. A classic straight from childhood, cosmic brownies are a fudgy, chocolate brownie covered in a chocolate ganache frosting and sprinkled with rainbow colored sprinkles or chips. I've seen these all over in stores but homemade is SO much better! You can whip these up in about an hour.
Recipe
Ingredients:
For the brownie:
1 cup melted butter (226 g)
1 cup cocoa (110 g)
1 1/2 cups sugar (300 g)
1 cup brown sugar (207 g)
2 eggs
1 Tablespoon vanilla (15 g)
2 1/4 cups all-purpose flour (270)
1 teaspoon cornstarch (4 g)
1/2 teaspoon salt (3 g)
3 Tablespoons milk
Rainbow chips or sprinkles
For the Ganache Frosting:
2 cups chocolate chips or chocolate pieces (milk or dark)
3/4 cup heavy whipping cream
2 Tablespoons butter cut in chunks
Instructions:
Mix the cocoa, sugar, and brown sugar in a bowl. Pour the melted butter in and whisk until smooth. Add the eggs and mix well after each one. Stir in vanilla. Mix the dry ingredients together and fold into batter. When the batter is still streaky, add the milk, then continue folding until it is JUST barely mixed (you no longer see streaks of flour). Don't overmix. Pour into a jelly roll pan (for thinner brwonies) or a 9x13 pan (for thicker brownies) lined with parchment or sprayed with cooking spray. Bake at 350 degrees (177 C) for 18-20 minutes for the jelly roll pan or 25-30 minutes for the 9x13 pan..While the brownies cool for a few minutes, make the ganache by heating your cream in the microwave for 30 seconds then pouring it over your chocolate. Stir until the chocolate is melted (you may need to microwave it a little more--10 seconds at a time. Once it's fully melted, stir in the butter. Spread over the brownies while they're still slightly warm. Sprinkle with rainbow chips or sprinkles. Cool completely before cutting. (I like to speed this process up by putting the brownies in the fridge or freezer.)
Enjoy your Cosmic Brownies and happy baking!
Check out my baking & business courses here! I have over 100 tutorials, lifetime access, and a risk free 30 day money back guarantee!
JOIN PREMIUM
My Top 10 Recipes!
Here you can access my free ebook and get my Top 10 Recipes!
Your Information is protected by Kajabi LLC. and I will never send you spam